Diona is bow wielding character with Cryo vision. In the party, Diona can act as Cryo battery for other Cryo character, healer, and shield support.
Overview
Diona Elemental Skill: Icy Paws will fire an icy paw that deal Cryo DMG to opponents and forms a shield on hit. It's shield strength scales off her max HP. and the duration depend on whether you are using Press or Hold on her elemental skill.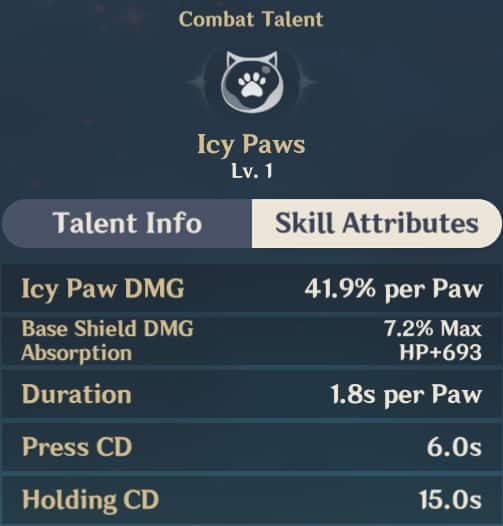 Also, characer with Icy Paws shield will have their Movement SPD increased by 10% and their Stamina Consumption decreased by 10% as described with one of her passive: Cat's Tail Secret Menu.
Diona Elemental Burst: Signature Mix will throw special cold brew that deals AoE Cryo DMG and heals HP of character within Drunken Mist AoE.
All enemy ATK within Signature Mix AoE will be decreased by 10% for 15s as described by Drunkard's Farce passive.
Weapons
Best weapon for Diona is Sacrificial Bow. This bow have Energy Recharge substats and effect to reset Diona elemental Skill CD so Diona can use her elemental skill again. This helps a lot considering Icy Paws Hold have 15s CD.
Your second option is Favonius Warbow which can be obtained for free from Mondstadt main quest. This bow have Energy Recharge substats and effect to generate more Energy for Diona so she can fill her elemental burst faster.
Artifacts
If you want to go all out with support Diona, you can use 4 Noblesse Oblige. 2 set of this artifact will increase Elemental Burst DMG by 20% and it's 4 set will increases all party members ATK by 20% for 12s whenever Diona using her elemental burst.
If you want more healing and more HP, go for 2 set Maiden Beloved + 2 Tenacity of the Millelith. 2 Maiden Beloved will increase healing effectiveness by 15% while 2 Millelith will increase Diona HP by 20%.
Remember, both Diona shield and healing scales off her HP, so more HP = more healing + thicker shield.
| | |
| --- | --- |
| 2 Maiden + 2 Emblem | 2 Millelith + 2 Emblem |
If you want to focus specifically only for shield strength or healing, you can go with other option.
Other option is using 2 Maiden Beloved or 2 Tenacity of the Millelith and combine it with 2 Emblem of Severed Fate which give 20% more Energy Recharge.
Artifact Stats
| Sand | Goblet | Circlet |
| --- | --- | --- |
| HP% | HP% | HP%/ Healing Bonus% |
Substats
HP% > Energy Recharge > flat HP > Elemental Mastery