Zhongli is one of the best support in Genshin Impact. With his almost unbreakable shield and physical/elemental RES shred, he can fit in any team.
Overview
Zhongli Elemental Skill: Dominus Lapidis will summon Stone Seele on press and hold, standing 30 seconds and will resonates with nearby Geo constructs every 2 seconds. Dealing Geo DMG to surrounding enemies.
When holding elemental skill, aside from Stone Seele. Player will also get Jade Shield with 150% DMG Absorption against all Elemental and Physical DMG. Character protected by this shield will decrease the Elemental RES and Physical RES of opponents by 20%.
Zhongli Elemental Burst, Planet Befall will nuke the enemy and petrify them for few seconds. You can use Dominus Lapidis to shred enemy Elemental and Physical RES, summon meteor using Planet Befall to petrify them, and then switch to your other character to finish the job.
That's if the enemy hasn't defeated by Zhongli nuke.
Physical DPS
Weapon
The most recommended weapon for Zhongli Physical Build is Crescent Pike, craftable polearm with Physical DMG Bonus substats. Other than Pike, you can use polearm with CRIT Rate/CRIT DMG/ATK substats.
More information please browse Polearms section.
Artifacts
The most recommended set for physical build is 4 set Pale Flame artifact from Ridge Watch domain. 2 set of Pale Flame increase Physical DMG by 25% while it's 4 set will give ATK increase as long as elemental skill hits an opponent.
As long as Dominus Lapidis on the field and the enemy on it's range, effect of 4 set pale flame will always active. Shouldn't be too hard maintaining this condition since Dominus Lapidis will present for 30 seconds and have fast cooldown.
As alternative, you can use 2 set Pale Flame with other artifact with same set bonus: Bloodstained Chivalry.
| Sand | Goblet | Circlet |
| --- | --- | --- |
| ATK% | Physical DMG Bonus% | CRIT Rate%/CRIT DMG% |
Substats
CRIT Rate% > CRIT DMG% > ATK%/ATK > Energy Recharge%
Shieldbot/ Shield Support Build
Weapon
Purely using Zhongli as tank, stack HP as much as you can. There's 2 weapon for this build. 5 star Staff of Homa and 3 star Black Tassel. Staff of Homa obviously will increase your damage by a lot, but Black Tassel is easier to get, and easier to refine, a true friend of F2P player.
Artifact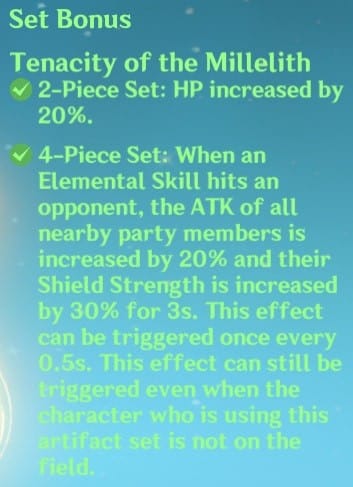 For this build, 4 set Tenacity of the Millelith is the best choice. 2 set of this artifact will increase Zhongli HP by 20% and 4 set will give ATK increase for all nearby party members by 20% as long as Stone Steele is present.
| Sand | Goblet | Circlet |
| --- | --- | --- |
| HP% | HP% | HP% |
Substats
HP/HP% > CRIT Rate% > CRIT DMG% > Energy Recharge > ATK
By using all HP% for all pieces of artifact above + level 90 Black Tassel, Zhongli will have around 50k+HP.
Nuker/ Burst DPS
Weapon
Zhongli Burst DPS prioritizing on Energy Recharge so you can use Zhongli Elemental Burst right after it's off CD. It's recommended to use polearm with energy recharge substats like Serpent Spine, Favonius Lance, Prototype Starglitter (F2P), and soon the upcoming polearm: The Catch.
If you have enough Energy Recharge, you can use polearm with CRIT Rate/CRIT DMG/ATK substat: Staff of Homa, Primordial Jade Winged Spear, Deathmatch, and Lithic Spear.
Artifacts
For burst support, it's recommended to use 2 set Noblesse Oblige + 2 set Archaic Petra.
2 Noblesse Oblige will give Zhongli +20% more damage for his Planet Befall. While 2 Archaic Petra will give Geo DMG Bonus +15%.
| Sand | Goblet | Circlet |
| --- | --- | --- |
| HP% | GEO DMG Bonus% | CRIT Rate/CRIT DMG |
Substats
CRIT Rate% > CRIT DMG% > HP > ATK > Energy Recharge%