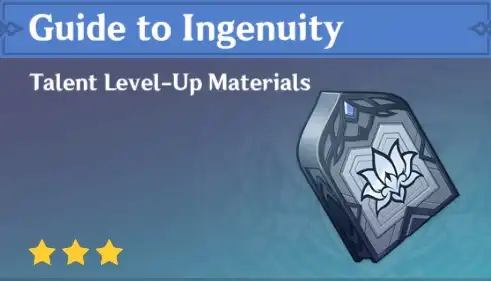 | | |
| --- | --- |
| Type | Material |
| Category | Talent Level Up Material |
| Rarity | |
In Game Description
Ingenuity is the leaf-veins of the nation of wisdom. Ingenuity sets words of integrity on the right path. One who thinks out of goodwill and in a clever and careful fashion never deviates from the path of boons. Yet one who thinks with contempt and malice shall taint their words with despicable colors.
How to get Guide to Ingenuity?
Domain: Steeple of Ignorance in Sumeru
Guide to of Ingenuity can be farmed from Steeple of Ignorance domain in Sumeru every Tuesday, Friday and Sunday.
Crafting
Also obtainable by combining 3 Teaching of Ingenuity. Use character with talent book related passive like Eula and Xingqiu to get crafting bonus.