| | |
| --- | --- |
| Category | Local Specialties |
| Region | Inazuma |
| Description | A plant species that only grows in certain regions and islands of the ocean. Though it looks like a fungus of some sort, it actually comes from a substance secreted by certain soft-bodied organisms. |
Usage: Character Ascension
Sea Ganoderma is Inazuma local specialties and used as character ascension material for following character:
Sea Ganoderma Location With Farming Routes
Sea Ganoderma can be found only in seashore, here's all farming location for Sea Ganoderma:
Narukami Island
Near Konda Village
It's the earliest location you can find after arrive in Inazuma. Can be acessed from north Konda Village teleport waypoint
South of Kamisato Estate
Teleport to Kamisato Estate teleport waypoint and head south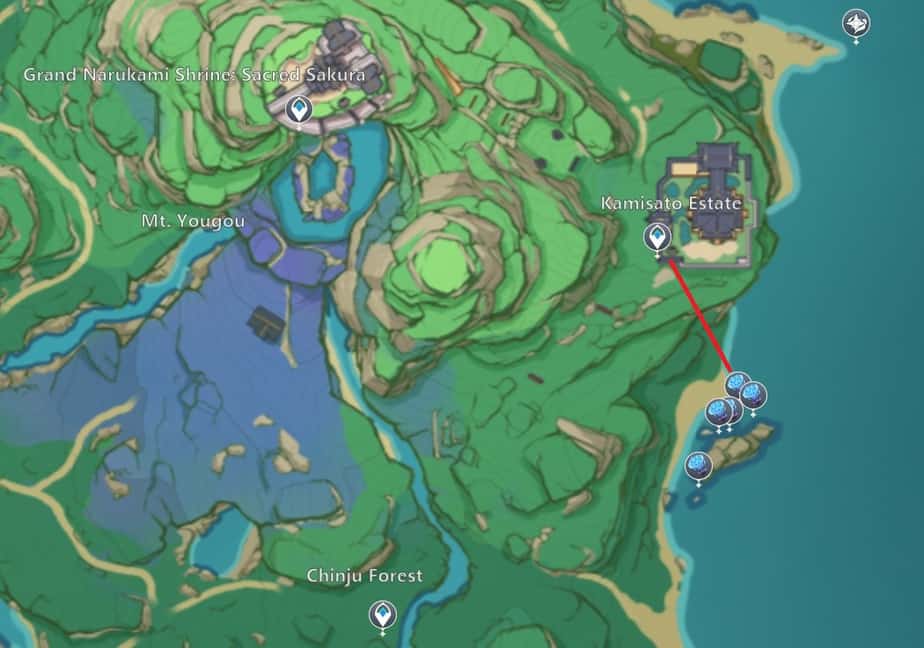 Northern Part of Narukami Island
Number 1 location can be found near waterfall. As for 2nd location, you can use Waverider to go there (check marked location)
Kujou Encampment
Mainly 3 farming locations available with recommended routes. You can start either from Statue of Seven or from closest teleport waypoint.
Kannazuka
Northern Part of Kannazuka
You are free to choose whichever routes you wanna take. Large area between 3 islands is shallow water so you can just sprint from one place to another.
Beach Southeast of Tatarasuna
The closest teleport waypoint to the area is Shakkei Pavilion.
Yoshiori Island
Fort Mumei Area
East Part of Yoshiori Island
Teleport to the closest waypoint and head stright to Sea Ganoderma farming area.