Shriveled Seed is mysterious seed that traveler can find in the depth of The Chasm.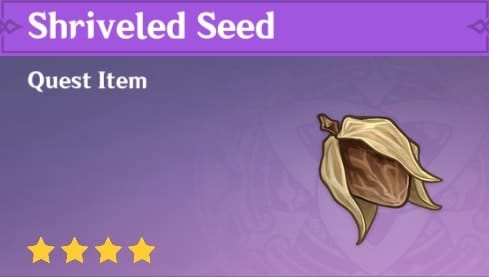 A seemingly withered object that seems to, by normal judgment, be a seed. However, it still has a surprising amount of life in it yet.

Best not to eat it for now…
What is Shriveled Seed Used For?
For now this item have no use. But since it's marked as quest item, I like to think that Shriveled Seed is required item for future quest.
Just like Drifting Bottle in Dragonspine which have no use at first. But later used as required item for Hiromi's Watch quest in Inazuma.
How to Get Shriveled Seed?
Go to marked location with Seelie home on it. If you can't find it, follow seelie in this area and it will bring you up to tunnel above. If it's blocked, then hit Geo exploding barrel to open the path ahead.
You will find tree root with 3 sealed elemental monuments (Geo, Anemo, and Electro) with chest in the middle.
To unseal Elemental Monuments, player will have to find 3 "shiny bud" scattered in this area.
First "shiny bud" can be found behind Geo Monument.
Second "shiny bud" can be found behind Electro Monument.
Third and last "shiny bud" can be found on the root above the monument,
After you've unseal all monuments, activate them and chest in the middle will be unlocked. Open it and you will obtain Shriveled Seed and hidden achievement: People of the Valley of Life as reward.