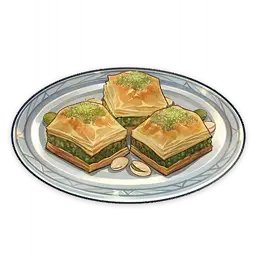 In Game Description
A traditional Sumeru dessert. This puff pastry contains chopped nuts and has been baked after having butter drizzled atop it — and not forgetting some syrup once it comes out of the oven. Some researchers will specially order this veritable "fortress of sweetness" to replenish their energies before an exam. This is also why this dish has great pride of place as the Akademiya's favorite dessert.
Effect
Depending on the quality (Suspicious/Normal/Delicious), this dish increases all party members CRIT Rate by 10/15/20% for 300s.
Just like any other food, consuming this dish will only effect your own character or party. This dish won't have any effect for other players in Co-Op mode.
Baklava Recipe Location
The recipe of Baklava can be purchased for 5.000 mora from Enteka, acting manager of Puspa Cafe in Sumeru.
Recipe
Here's all ingredients required to cook this dish:
| | | | |
| --- | --- | --- | --- |
| 3x Flour | 2x Ajilenakh Nut | 2x Butter | 1x Sugar |