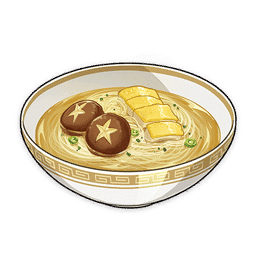 In Game Description
Noodles that are as slender as the hairs on a dragon's beard. The green onion is fried in a wok before the soup and condiments are added. Last in are the noodles, after which the lot is ladled out and plated up. The noodles must be skillfully hand-pulled multiple times before they become extremely thin — a technique that makes this dish the most challenging noodle recipe in Liyue.
Effect
Depending on the quality (Suspicious/Normal/Delicious), this dish increases all party members ATK by 160/194/224 for 300s.
Just like any other food, consuming this dish will only effect your own character or party. This dish won't have any effect for other players in Co-Op mode.
Dragon Beard Noodles Recipe Location?
The recipe of Dragon Beard Noodles can be purchased from Chef Mao at Wanmin Restaurant, Liyue for 5.000 mora.
Recipe
Here's all ingredients you need to cook this dish:
| | | | |
| --- | --- | --- | --- |
| 4x Flour | 2x Fowl | 2x Mushroom | 1x Ham |