Description
A fish with unique morphology and Sumeru's cousin to the butterfly fish. This fish has a broad skeleton and a unique curved body. Legend has it that the first fishermen to catch this fish had their rods tilted at the end of the tail fin and found that the two, when combined, resemble a polearm, hence giving rise to the name "Axe Marlin." This name has made much more of an impression than its scientific name, the "Anchor Hook Butterfly," and it is thus colloquially used amongst most people.

Although its namesake is a weapon, and its strength surpasses that of many other fish, Axe Marlin mostly have a kind personality, especially those with blue and gold stripes on the body. Due to their hard scales and big size, Axe Marlins are able to handle attacks from other aquatic creatures, waiting until their attacker is exhausted and leaves.

Their strength can also prove challenging for a master fisherman, whose only choice is to treat them as large beasts — to drain their stamina more efficiently and eventually catch them, one must go all out the moment an Axe Marlin bites.
Lazurite Axe Marlin Fishing Location
There's 5 location available to get Lazurite Axe Marlin where you can get this fish:
Location 1
Near Mewtiyima Forest teleport waypoint, same location where you fish Peach of the Deep Waves.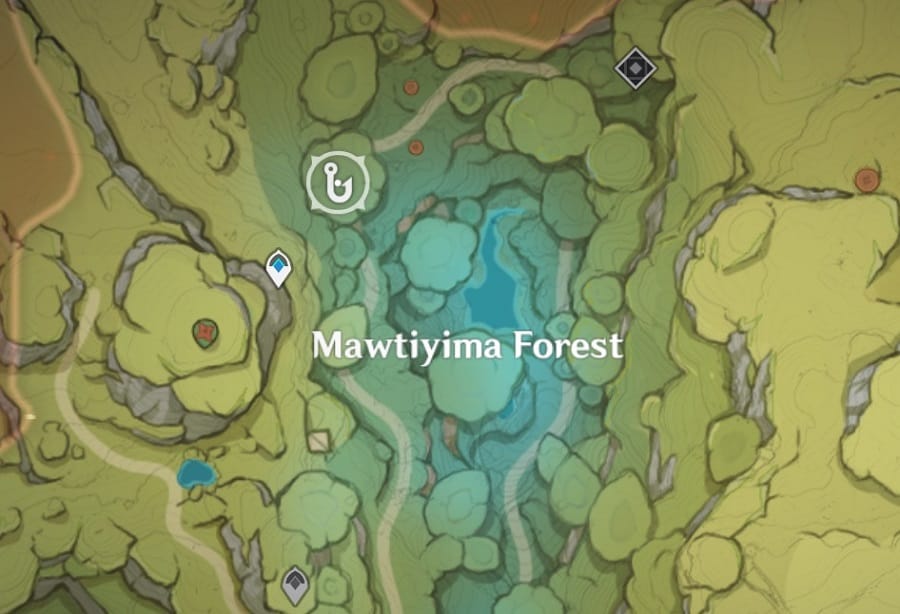 Location 2
South of Devantaka Mountain teleport waypoint, you can check and mark this spot on your way to Port Ormos during main quest.
Location 3
North of Vimara Village.
Location 4
Northeast of Devantaka Mountain Teleport Waypoint, also east of Vimara Village.
Location 5
Screenshot of map provided by Teyvat Interactive Map for Lazurite Axe Marlin fishing spot.