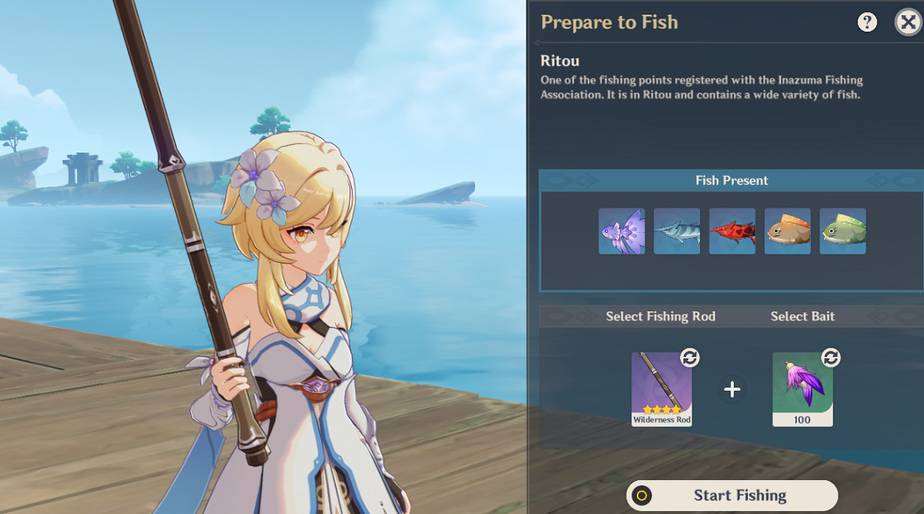 Fishing is new system in Genshin Impact, involves crafting some bait for different type of fish, choosing location and time for fishing, catch the fish and exchange it for item and rewards.
Requirements
Finish 2 following quest:
A Teapot to Call Home (Unlock Serenitea Pot/Serenitea Pot).
Exploding Population: Unlock Fishing System and basic explanation about the new system.
How to get more Baits?
From quest introduction, you will get 10 bait each.
There's 4 baits available in the game. Fruit Paste Bait can be craft in alchemy bench from start while the other three: Redrot Bait, False Worm Bait, and Fake Fly Bait require recipe/blueprint to craft. Different bait will attract different fish.
| | |
| --- | --- |
| Fruit Paste Bait | Redrot Bait |
| False Worm Bait | Fake Fly Bait |
| Sugardew Bait | – |
Buy Bait Blueprint from NPC Nantuck in Mondstadt
You can get 3 bait blueprints from Nantuck in Mondstadt, 3 Medaka fish for one blueprint. So in the beginning of fishing, it's recomended to craft some Fruit Paste Bait and farm 9 Medaka fish to get all blueprints.
Don't forget to learn the blueprints in your inventory before crafting new baits or it won't appear in crafting bench.
Craft Bait in Alchemy Bench
Head to any crafting bench then open it, then click on Filter, choose Bait.
Here's recipe for each bait:
10 Fruit Paste Bait require 1x Sunsettia and 1x Wheat.
10 Redrot Bait require 1x Dendrobium and 1x Fowl.
10 False Worm bait require 1x Slime Condensate and 1x Berry.
10 Fake Fly Bait require 1x Sakura Bloom and 1x Horsetail.
All Fish and Bait to Use
Different bait are used to catch different kind of fish. Here's the details
| Bait | Fish |
| --- | --- |
| | Medaka variants: Medaka, Aizen Medaka, Crystalfish, Dawncatcher, Glaze Medaka, Sweet Flower Medaka |
| | Sticklebacks variants: Akai Maou, Betta, Lunged Stickleback, Snowstrider, Venomspine Fish. |
| | Butterfly fish variants: Abiding Angelfish, Brown Shirakodai, Purple Shirakodai, Raimei Angelfish, Tea Colored Shirakodai |
| | Golden Koi, Rusty Koi, Pufferfish, and Bitter Pufferfish. |
Ornamental Fish
Ornamental Fish is fish that can be used as furnishing and added to Serenitea Pot later. Ornamental Fish can be caught just like any other fish but with higher difficulty in the process.
Easiest way to spot fishing location with Ornamental Fish on it, the ripple looks glowing from afar and the ornamental fish will jumping around the pool.
After got caught, ornamental fish will be added to your inventory in Furnishing tab.
Fishing Association NPC
Nantuck in Mondstadt
You can find Nantuck near front gate of Mondstadt. He sells 3 fish bait blueprints and Windtangler, fishing rod with special effect for fishing in Mondstadt region.
Jiawei in Liyue Harbor
You can find Jiawei in Liyue Harbor. He sell blueprint for Pool of Sapphire Grace and Wishmaker, fishing rod with special effect for fishing in Liyue region.
Kujirai Momiji in Inazuma
You can find Kujirai Momiji near teleport waypoint south of Byakko Plain. She sell The Catch polearm along with it's refinement material, Ako's Sake vessel.
Kujirai Momiji also sell Narukawa Ukai, fishing rod with special effect for fishing in Inazuma region.
Fishing Location
There's 8 fishing locations in Mondstadt, 11 in Liyue, and 8 in Inazuma.
Mondstadt
| Map | Fish in the area |
| --- | --- |
| East of Mondstadt | Aizen Medaka, Crystalfish, Venomspine Fish, Rusty Koi, Tea-Colored Shirakodai |
| South of Mondstadt | Medaka, Aizen Medaka, Venomspine Fish, Akai Maou, Tea-Colored Shirakodai, Pufferfish, Bitter Pufferfish |
| Stormbearer Mountains | Medaka, Aizen Medaka, Dawncatcher, Crystalfish, Venomspine Fish, Golden Koi, Tea-Colored Shirakodai |
| Windrise | Medaka, Aizen Medaka, Venomspine Fish, Tea-Colored Shirakodai |
| Near Dawn Winery | Aizen Medaka, Dawncatcher, Venomspine Fish, Akai Maou, Tea-Colored Shirakodai, Pufferfish, Bitter Pufferfish |
| North Side of Stormterror's Lair | Medaka, Aizen Medaka, Dawncatcher, Crystalfish |
| South Side of Stormterror's Lair | Medaka, Aizen Medaka, Dawncatcher, Tea-Colored Shirakodai |
| Dragonspine | Medaka, Venomspine Fish, Snowstrider, Tea-Colored Shirakodai |
Liyue
| Map | Fish in the area |
| --- | --- |
| Dihua Marsh, West of Statue of the Seven | Medaka, Sweet-Flower Medaka, Dawncatcher, Brown Shirakodai |
| Qingce Village | Sweet-Flower Medaka, Dawncatcher, Crystalfish, Betta, Brown Shirakodai, Bitter Pufferfish |
| Northeast of Clear Pool and Mountain Cavern domain | Medaka, Betta, Brown Shirakodai |
| East of Clear Pool and Mountain Cavern domain | Medaka, Dawncatcher, Crystalfish, Brown Shirakodai |
| West of Wangshu Inn | Sweet-Flower Medaka, Betta, Akai Maou, Golden Koi, Rusty Koi, Brown Shirakodai |
| Broken Bridge East of Guili Plains | Sweet-Flower Medaka, Betta, Akai Maou, Golden Koi, Rusty Koi, Brown Shirakodai |
| Mt Aocang, in front of Cloud Retainer Abode | Medaka, Sweet-Flower Medaka, Dawncatcher, Crystalfish, Abiding Angelfish |
| East of Mt Hulao | Medaka, Sweet-Flower Medaka, Dawncatcher, Crystalfish, Betta, Brown Shirakodai |
| Tianqiu Valley | Medaka, Crystalfish, Betta |
| Luhua Pool | Sweet-Flower Medaka, Betta, Akai Maou, Golden Koi, Rusty Koi, Brown Shirakodai |
| Liyue Harbor | Betta, Pufferfish |
Inazuma
| Map | Fish in the area |
| --- | --- |
| Ritou, at the dock | Glaze Medaka, Lunged Stickleback, Akai Maou, Pufferfish, Bitter Pufferfish |
| Behind Violet Court domain, south of Amakane Island | Glaze Medaka, Lunged Stickleback, Purple Shirakodai |
| Ship Graveyard East of Kannazuka | Raimei Angelfish. Defeat all enemy in the are before fishing. Fish will only spawn between 18:00 – 06:00 in game time. |
| North of Nazuchi Beach Shipwreck | Medaka, Lunged Stickleback, Purple Shirakodai, Bitter Pufferfish |
| North of Sangonomiya Shrine | Medaka, Glaze Medaka, Dawncatcher, Crystalfish, Lunged Stickleback, Purple Shirakodai |
| Suigetsu Pool, near Waverider Waypoint | Medaka, Glaze Medaka, Dawncatcher, Crystalfish, Lunged Stickleback, Purple Shirakodai |
| Koseki Village, Seirai Island | Glaze Medaka, Lunged Stickleback, Akai Maou, Golden Koi, Rusty Koi, Purple Shirakodai |
| East of Koseki Village, Seirai Island | Medaka, Dawncatcher, Crystalfish, Purple Shirakodai, Pufferfish |