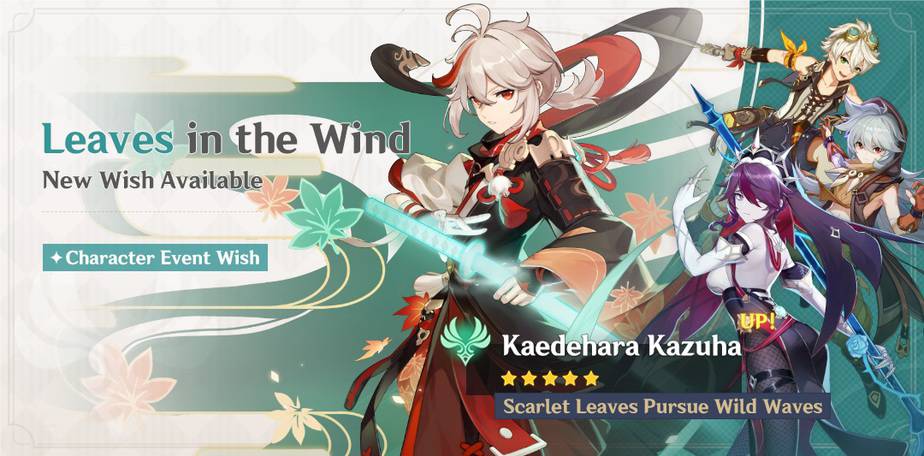 New banner is here, featuring new Anemo Sword from Inazuma: Kaedehara Kazuha.
In this banner Kazuha will be accompanied by 3 other characters: Cryo Nun Rosaria, Wolf Boy Razor, and everyone favorite support Bennett.
Kazuha is support character, and the best weapon for his current support build is weapon that have Elemental Mastery substats: Freedom Sworn, The Alley Flash, and Iron Sting.
Freedom Sworn and The Alley Flash are available in the current weapon banner: Event Wish "Epitome Invocation" 2021-06-29. As for Iron Sting, it's craftable weapon so you can craft it in the forge as long as you have necessary materials.
Event Wish Duration
2021-06-29 18:00:00 – 2021-07-20 14:59:59
Event Wish Details
During the event, the event-exclusive 5-star character "Scarlet Leaves Pursue Wild Waves" Kaedehara Kazuha (Anemo) will receive a huge drop-rate boost!
During the event, the 4-star characters "Thorny Benevolence" Rosaria (Cryo), "Trial by Fire" Bennett (Pyro), and "Wolf Boy" Razor (Electro) will receive a huge drop-rate boost!
Of the above characters, the event-exclusive character will not be available in the standard wish "Wanderlust Invocation."
The "Test Run" trial event will be open during this event wish. Travelers may use fixed lineups containing the selected trial characters to enter specific stages and test them out. Travelers that complete the challenges will receive the corresponding rewards!
For more information, go to the Wish screen and select Details in the bottom-left corner.