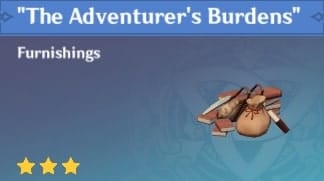 Description
Luggage containing a few emergency books. When adventuring out in the wild, book knowledge may prove even more important than Mora.

It's a shame that an author like Alice the Adventurer hasn't taken her wealth of expertise, summarized the essentials, and made it available in the form of a few slim pamphlets, because the only alternative is for other poor adventurers to carry around the burden of a thick stack of hefty hardbacks.
Where to Get The Adventurer's Burdens?
Blueprint of this furnishing can be purchased from Furnishing Shop NPC Master Lu for 50.000 mora. Then player can craft it in Furnishing Creation menu with these following materials: