The hosing system with official name Serenitea Pot feature just released today along with genshin Impact 1.5 Update. This feature allow traveler to have their own space inside serenitea pot where traveler can build and customize their own realm.
Requirements to Unlock Serenitea Pot
Adventurer Level 35 or higher.
Finish Liyue Quest: "A New Star Approaches"
Finish quest: Teapot to Call Home
Choosing Realm Layout
After finishing quest, player will receive serenitea pot from Madam Ping in form of gadget.
Go to Inventory > Gadgets and select the item to place it. After that, choose Enter the Serenitea Pot and traveler will be transferred to the realm within.
If it's traveler first time to enter Serenitea Pot, traveler will have to choose between 3 realm layouts: Floating Abode, Emerald Peak, and Cool Isle. In screenshot below, I already choose Emerald Peak.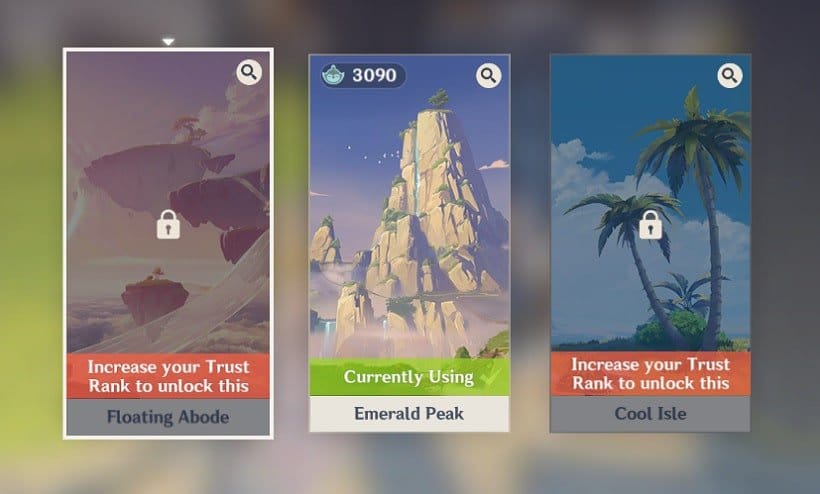 Later, one more realm layout will be added. Named Silken Coourtyard, this realm layout have Inazuma style and can be unlocked by reaching Sacred Sakura Favor level 40 in Inazuma.
All Features Available Inside The Realm
Inside the realm, player can place building, furnitures, plants/trees, animals, decorations, geological features, etc.
Main building already available and in the beginning player will have basic tutorial about how to place building and furnitures from Tubby The Teapot Spirit.
In the dialogue with Tubby, player can find all features available for housing system starting from Trust Rank, Switch Realm Style, Create Furnishing, and Realm Depot.
Trust Rank
Trust Rank is level system inside the realm, more rewards and features will be unlocked when player trust rank increased. So how to increase Trust Rank? Player have to craft some furnishing and for first time doing so, player will be rewarded with Trust EXP.
There's 3 tier of furnishing available, different tier will gain different Trust EXP:
| Furnishing Tier | Crafting Time | Trust EXP |
| --- | --- | --- |
| Green | 12 hours | 30 Trust |
| Blue | 14 hours | 60 Trust |
| Purple | 16 hours | 90 Trust |
By increasing your Trust Rank player will get new blueprints as reward, and then player can craft furnishing with new blueprints and so on. The higher Trust Rank will also affect Realm Currency accumulation rate and Jar of Riches Storage Capacity.
| Level | Adeptal Energy Needed | Realm Currency Accumulation |
| --- | --- | --- |
| Bare-Bones | 0 | 4/hour |
| Humble Abode | 2000 | 8/hour |
| Cozy | 3000 | 12/hour |
| Queen -Size | 4500 | 16/hour |
| Elegant | 6000 | 20/hour |
| Exquisite | 8000 | 22/hour |
| Extraordinary | 10000 | 24/hour |
| Stately | 12000 | 26/hour |
| Luxury | 15.000 | 28/hour |
| Fit for a King | 20.000 | 30/hour |
Switch Realm Style
Other realm style can be acessed after traveler reaching Trust Rank 10
Create Furnishing
Menu to craft Furnishing with all blueprints you've learned. At first player will only have 1 queue slot, other slots will be unlocked at Trust Rank 2, 4, 6, and 9. Waiting time depend on furnishing tier, Green: 12 hours, Blue: 14 hours, Purple: 16 hours.
If you want to skip crafting time, you can use Vial of Adeptal Speed to skip it completely. You can get this item from Realm Depot and by increasing your Trust Rank.
The other way to reduce crafting time is by using help from a friend. Invite friend to your realm and ask them to speak with Tubby and choose improve friendship dialogue. By doing that, your crafting time will be reduced by 4 hours. You should visit your friend and doing the same.
Realm Depot
Realm Depot contains all items available items to buy with realm currency:
Realm Treasures: Some important items such as Transient Resin (trust rank 6), Sanctifying Essence (trust rank 8), and Sanctifying Unction (trust rank 8) which locked by their respective Trust Rank.
Furnishings: A lot of furnishing available to fill your realm, you can also purchase 5 Vial of Adeptal Speed/day here.
Blueprints: More blueprints available for your crafting and increasing your Trust Rank.
Riches of the Realm: More options for unique furnishings for gardening and playing music.
For list of all available item in realm depot, please refer to Realm Depot – All Items For Sale in Serenitea Pot.
Adeptal Mirror
Series of missions, works just like Adventurer Handbook. Complete the mission every round to get rewards such as furnishings and furnishing blueprints. Please refer to Adeptal Mirror for more details.
Crafting and Gathering Material
Here's all materials used for furnitures crafting:
Traveling Salesman and NPC Furniture Shops
There's 2 NPC who sells some furniture blueprints in Mondstadt and Liyue. Every Friday, Chubby The Traveling Salesman will also visit your realm and sell some items.
Gardening System
It's new system released with Genshin Impact 2.0. This feature allow player to do gardening in their serenitea pot by using field furnishing from realm depot and seed gathered using Seed Dispensary Gadget. Require to finish The Art of Horticulture world quest.