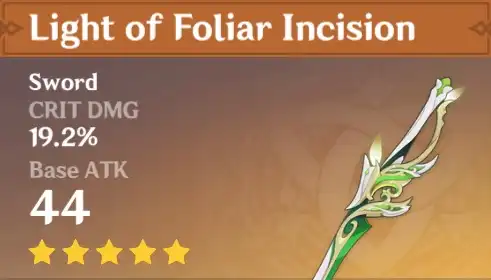 CRIT Rate is increased by 4/5/6/7/8%. After Normal Attacks deal Elemental DMG, the Foliar Incision effect will be obtained, increasing DMG dealt by Normal Attacks and Elemental Skills by 120/150/180/210/240% of Elemental Mastery. This effect will disappear after 28 DMG instances or 12s. You can obtain Foliar Incision once every 12s.
In Game Description
This gilded blade was made using precious white branches. It was once used to destroy countless poisons that infested the forest.
How to Get Light of Foliar Incision ?
Obtainable from limited weapon banner, arrive with Genshin Impact 3.4 update along with it's wielder: Alhaitham
Weapon Upgrade Materials
Here's all material used to upgrade Light of Foliar Incision:
| Level | Mora | Ascension Material | Material 1 | Material 2 |
| --- | --- | --- | --- | --- |
| Level 20 | 1.0000 | x5 | x5 | x3 |
| Level 40 | 20.000 | x5 | x18 | x12 |
| Level 50 | 30.000 | x9 | x9 | x9 |
| Level 60 | 45.000 | x5 | x18 | x14 |
| Level 70 | 55.000 | x9 | x14 | x9 |
| Level 80 | 65.000 | x6 | x27 | x18 |