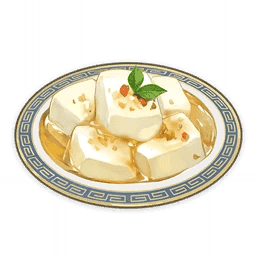 In Game Description
A dessert made from ground almonds. It has the exquisite look and texture of that of a piece of white jade, and could pass as an art piece — so much so that you could not entertain the idea of actually eating it.
Effect
Depending on the quality (Suspicious/Normal/Delicious), this food increases the party's Attack by 66/81/95 for 300 seconds.
Just like any other food, consuming this dish will only effect your own character or party. This dish won't have any effect for other players in Co-Op mode.
Almond Tofu Recipe Location?
Recipe for Almond Tofu can be obtained by investigating the kitchen table in Wangshu Inn's kitchen.
Recipe
Here's all ingredients you need to cook this dish: