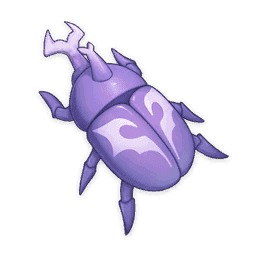 | | |
| --- | --- |
| Category | Inazuma Local Specialties |
| Region | Inazuma |
| Description | A strange beetle that inhabits areas rich with Electro energy. Its docile and sedentary temperament could not be more different from the fierce, demonic visage displayed on its armored shell. |
In Game Archive Description
A strange beetle that inhabits areas rich with Electro energy. Its docile and sedentary temperament could not be more different from the fierce, demonic visage displayed on its armored shell.

Inazuman folktales say that when the gods were apportioning territory to the many animals, the onikabuto, who detested conflict, chose first to live in lands saturated in Electro. As many years passed, it evolved bizarre patterns with which to frighten trespassers and developed horns that could release electricity to deter predators. Yet though it wears armor and bears horns, the onikabuto hates fighting most of all animals.
Usage
For now this Inazuma local specialty isn't used for any character any cooking recipe. But in the future, most likely this material will be used as ascension material for upcoming character just like any other local specialty.

Onikabuto Locations & Farming Routes
As for where to find Onikabuto. This beetle can be found in area rich with electro energy. They have bright purple color with unique pattern on their back, make it easy to notice them. Keep an eye on trees and rocks around you when you're looking for this beetle in the wilds.
There's around 27 of this local specialty scattered all over Inazuma, so little in numbers compared to other specialty like Sakura Bloom or Dendrobium.
Narukami Island
For Narukami Island, start from Kamisato Estate teleport waypoint then climb the stairs to the mountain. Get your Onikabuto while following the stairs and keep going until you've reached Court of Flowing Sand domain.
By following this farming route you can get 5-6 Onikabuto.
You can take the red circle one when climb your way to the stairs or just take it later by gliding from Narukami Shrine teleport waypoint. As for the other 2, glide from closest teleport waypoint to reach their locations.
Kujou Encampments
For this area, start from teleport waypoint then walk northwest to get 1 Onikabuto. Then walk northeast, and then walk north until you've reached Thunder Sakura. The last 2 beetles can be found attached to the tree.
Tatarasuna
Only 3, but the good thing is they can be found in one area so it won't take too much time. You just need to climb a bit from closest teleport waypoint.
Yoshiori Island
Teleport to marked teleport waypoint and then get the Onikabuto from tree in that area. After that, walk north until you've reached stone lantern with 1 electro kairagi. The onikabuto can be found behind the stone lantern, attached to the rock. Continue to the last location in Serpent Head.
The other location is serpent bone north of Momiji Dyed Court and Jakotsu Mine, both located quite far from teleport waypoint so it's optional to get them.
I'm using Teyvat Interactive Map as reference for this Onikabuto farming guide.