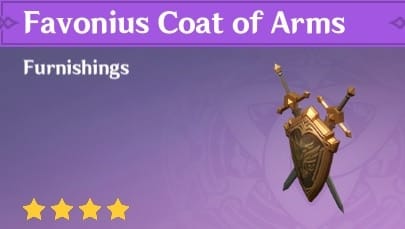 Description
A wall decoration comprised of a shield and two ceremonial swords engraved with the devices of the Knights of Favonius.

Both the sword and shield are trimmed with precious metals and are of good quality. They are not legendary weapons, for sure, but they are certainly no worse than high-quality equipment one can find on the market.

Some knights once found the following clause within an old edition of the rulebooks — "Feel free to use these weapons in case of an emergency."

However, these arms have incredible proportions and weight, and ordinary knights cannot use them at all, with some reckless young people almost causing alarmingly dangerous incidents.
As such, the new rulebooks now contain no such clause.
Where to Get Favonius Coat of Arms Furnishing?
Blueprint of this furnishing can be obtained from Adeptal Mirror Round 4, and can be crafted with these following materials: