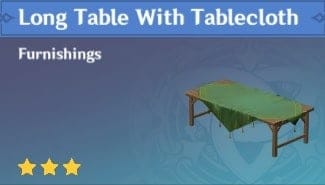 Description
A Mondstadt-style long table laid with a diamond-shaped turquoise table cloth that is said to represent "jubilation." It is often used for celebrations and group dinners.

But due to some fools pulling the cloth, and with it an entire slew of fine food, to the ground while in high spirits, all such table cloths have been nailed securely to the table.
How to Get Long Table With Tablecloth Furnishing?
This furnishing can be obtained from Adeptal Mirror and Realm Depot. Also obtainable from furnishing creation with following materials: