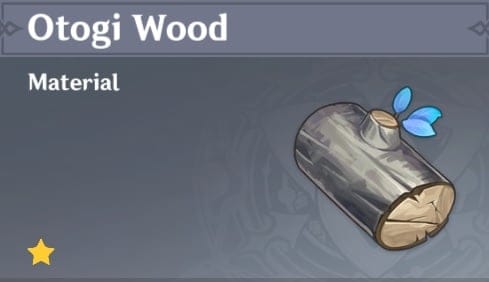 | | |
| --- | --- |
| Item Type | Housing Material |
| Rarity | |
| Source | Otogi Tree |
Description
Wood from the Otogi Tree. It has just the right amount of moisture and oil, and as such has a great many uses. Can be used to create furnishings.
Where to Get Otogi Wood in Genshin Impact?
Otogi Wood mainly can be found in Kannazuka, Yashiori Island, and Watatsumi Island. For Kannazuka area, you can start from Statue of the Seven then walk Hanayama Kaoru flower garden. Almost all trees in the area is Otogi Tree (although somehow it didn't appear in map).
This area is my first pick for Otogi Woof farming because trees located pretty close from one another.
Second location is Yashiori Island, pretty much scattered all over the place.
Otogi Wood also can be found at Watatsumi Island, mostly northeast of Sangonomiya Shrine. You can start from teleport waypoint north of Sangonomiya Shrine, beware there's a lot of enemy crawling in the area.
Safer farming area would be area around Statue of the Seven east of Sangonomiya Shrine.
Wood Farming Tips in Genshin Impact
Farming wood in Genshin Impact is easy, all you need to do is strike the tree with your weapon and some piece of material will dropped from it. After the tree didn't drop any materials anymore, you can just continue harvesting the other tree.
It's recommended to use polearm user since polearms have fastest attack speed compared to all other melee weapon. Also, ypu might want to bring Arataki Itto since he have passive for a chance to get more log of wood.