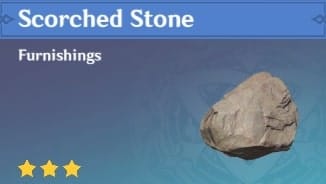 Description
The other old tale people tell about brown-colored stones holds that the stones of Cuijue Slope gained their brownish-red hue from prolonged exposure to fire from Flaming Flowers, which grow there in great profusion, hence they are called "Scorched Stones."

But samples collected by adventurers beg the question: If even stones taken from the vicinity of a Pyro Regisvine show no great changes in appearance, surely the Flaming Flower's comparatively inferior light and heat mean that it is incapable of causing the mass environmental discoloration that the rumors ascribe to it?
How to Get Scorched Stone Furnishing?
This furnishing can be obtained from Adeptal Mirror Round 1 and Realm Depot.