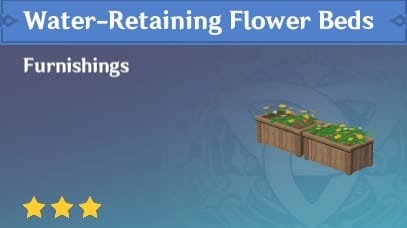 Description
Rectangular fir flower beds that are often used to decorate the streets.

A special coating has been applied to these flower beds to prevent water from seeping out through the gaps in the fir planks, thus allowing it to lock the soil moisture in.
Where to Get Water-Retaining Flower Beds?
Blueprint of this furnishing can be obtained from Realm Depot for 160 realm currency. Then player can craft it in Furnishing Creation menu with these following materials:
| Material | Crafting Time |
| --- | --- |
| 12x Fir Wood | 14 hours |