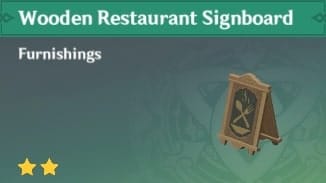 Description
An eye-catching restaurant signboard that also does not seem out of place when put indoors.

They say that adding some names of restaurants that are famous the world over can add to the sense of ritual that surrounds the dining process and increase the flavor of the dishes.
Where to Get Wooden Restaurant Signboard?
Blueprint of this furnishing can be obtained from Realm Depot for 80 realm currency. Then player can craft it in Furnishing Creation menu with these following materials: