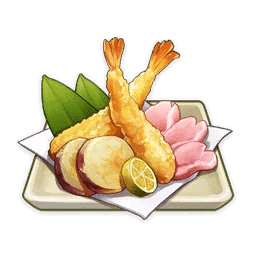 In Game Description
A dish deep-fried in oil. Incorporate the marinated sakura blossom petals into the batter before giving the fresh shrimp and vegetables an even coating, frying, and then draining the oil. This all sounds simple enough, but good tempura making is not something achieved in a mere day.
Effect
Depending on the quality (Suspicious/Normal/Delicious), this dish increases all party members Shield strength by 20/25/30% for 300s.
Just like any other food, consuming this dish will only effect your own character or party. This dish won't have any effect for other players in Co-Op mode.
Sakura Tempura Recipe Location?
The recipe for Sakura Tempura can be obtained from the World Quest Gourmet Supremos, Assemble!, the first part of Gourmet Supremos quest series. You will find them in the beach between Ritou and Narukami Island.
Recipe
Here's all ingredients you need to cook Crab Roe Kourayaki: