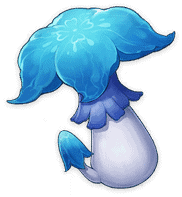 | | |
| --- | --- |
| Category | Local Specialties |
| Region | Inazuma |
| Description | A mushroom that glows like a night-light. Some curious power lies hidden within it. |
In Game Description
A mushroom that glows like a night-light. Some curious power lies hidden within it. Amidst the fog that blankets Tsurumi Island, these Fluorescent Fungi can help to light the way.
Usage
Fluorescent Fungus will be used as Thoma ascension material in the future.
Where to Find Fluorescent Fungus?
Fluorescent Fungus only can be found in recently-released Island in Inazuma, Tsurumi Island. This fungi literally scattered across the island and can be spotted easily because it's bright blue color.
Fluorescent Fungus Farming Locations
I've spit map for Fluorescent Fungus farming into 2 map: Northern and Southern part of Tsurumi Island.
For southern part of the island, you can start with teleport waypoint near ceremonial site. From there you can run to first route, back to teleport waypoint, then go to route number 2.
After done with first and second route, you can go for teleport waypoint where you can start third and forth routes.
For some fungus in Mt Kanna, you can go to hollowed part located in a center of the mountain then just walk around to grab it.
For northern part of the map, there's only 3 routes available. First route, you can start with teleport waypoint located east of Autake Plains then follow red arrow until last location.
For second route you can start from Chirai Shrine teleport waypoint, follow red arrow to ruin guarded by Ruin Sentinel then walk south to grab the last 2 fungus in the area.
For the last route with orange arrow, it's located inside underground ruin. You can start from Shirikoro Peak teleport waypoint then head down to area under perch tree, take some fungus in the area then walk inside the ruin.
If you haven't open all gates inside ruin, you can read: Tsurumi Island Offering to the Perches Guide.