| | |
| --- | --- |
| Main Category | Material |
| Sub Category | Forging Material |
| Description | An uncut crystal. Only professional craftsmanship can bring out its true value. |
In Game Archive Description
An uncut crystal. Only professional craftsmanship can bring out its true value. This kind of limpid rocks is a precious gift of the land, which can be utilized as a valuable weapon-making material.
Usage
Crystal Chunk are used to forge craftable weapons, mystic enhancement stone, and to craft some gadget in alchemy table. Here's all weapons and items that require Crystal Chunk in the making:
Craftable Weapon
Non Weapon Items
| | | | |
| --- | --- | --- | --- |
| Anemoculus Resonance Stone | Geoculus Resonance Stone | Portable Waypoint | Mystic Enhancement Stone |
| Anemo treasure Compass | Geo Treasure Compass | Wind Catcher | |
Easy Way to Get Crystal Chunk Part 1: Expeditions
Expedition is the easiest way to get cooking and forging material, this including Crystal Chunk. Just by assigning character to certain location player are guaranteed to get 7-8 Crystal Chunk, assuming player choose 20 hours option.
As for tips to optimize amount of material from expedition, choose 20 hours (longest) expedition time and use characters with passive to reduce amount of time by 25% as listed below:
| | | |
| --- | --- | --- |
| Character | Passive | Description |
| Bennett | It Should Be Safe… | When dispatched on an expedition in Mondstadt, time consumed is reduced by 25%. |
| Fischl | Mein Hausgarten | When dispatched on an expedition in Mondstadt, the time consumed is reduced by 25%. |
| Chongyun | Gallant Journey | When dispatched on an expedition in Liyue, time consumed is reduced by 25%. |
| Keqing | Land's Overseer | When dispatched on an expedition in Liyue, time consumed is reduced by 25%. |
Best Way to Get Crystal Chunk Part 2: Farming and Exploration
When players exploring the map of Liyue and Mondstadt, sometimes they will stumbleupon ore and other materials. To get the ore that you need, in this case Crystal Chunk. You will need character with claymore to break ore deposit easily.
Yes you can use other melee weapon user like sword or polearm, but it will take too long and won't be as effective as claymore user.
As for other tips, if you have them bring Zhongli to easily break multiple ore deposit with his elemental skill (Dominus Lapidis) and Ningguang to detect ore deposit location in minimap with her passive (Trove of Marvelous Treasures).
Here's all recommended spot in the map to farm Crystal Chunk:
Mondstadt
Stormbearer Mountains
The first recommended location in Mondstadt is Stormbearer Mountains.
Hillchurl Camp Southeast of Springvale
Second location, cave in the Hillchurl camp near Valey of Remembrance, South East of Springvale. Just one spot, but packed with some ores and crystal chunks.
Wolvendom
Third location is scattered across Wolvendom area. As for route, I would recommend to start from Anemo Statue near Dawn Winery. From there, you can just follow farming route below:
Stormterror Lair
The last farming location map in Mondstadt is Stormterror Lair. There's no recommended farming route for this one since the crystal chunks scattered pretty close to each other.
Usually I start from southernmost teleport waypoint, and then start running west to clear crystals in the edge of the map, walk north and then taking all crystals in the middle of the map.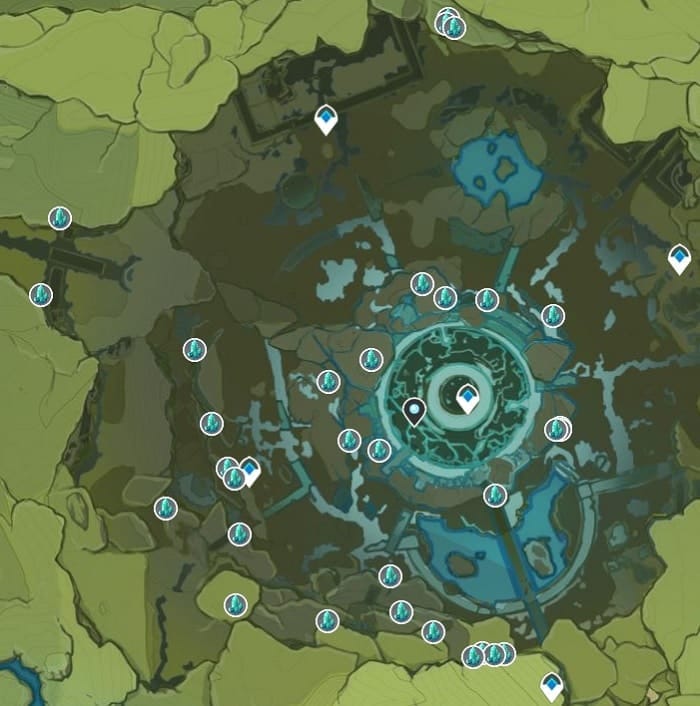 Liyue
Treasure Hoarder Camp South Of Qingce Village
The first recommended location is treasure hoarder camp in south of Qingce Village. Start from marked teleport waypoint and then climb, you will find 2 spot full with crystal chunk deposit. There's Treasure Hoarder camp in that area, so be ready for a fight.
Guyun Stone Forest
Second location is in Guyun Stone Forest. First go to north teleport waypoint and get some chunks from the area.
Second starting point, teleport to Domain of Guyun and then follow the designated route. Beware though, in the last spot there's Geovishap Hatchling guarding the spot so be ready for a fight.
Southern Liyue
We are covering wider map this time since the spots are pretty close to each other. It's in Southern part of Liyue and there's 6 starting point for route.
Follow the number and route from marked location, tap the image for bigger visual.
Tianqiu Valley and Luhua Pool Area
There's 4 starting area, pick whichever you like to start. If you need bigger visual, tap the image to zoom.
Jueyun Karst, Qingyun Peak, and Mt. Aozang
The last one is a bit messy. From all 8 starting point you can start from whichever spot you like. Tap the image for bigger visual.
Q&A Regarding Crystal Chunks Farming
First Question
Q : How long did it take to get all crystal chunks in the whole map by following the route above (Mondstadt and Liyue)?
A : 2 to 3 hours if I'm full focusing on farming solo. I'm playing Genshin Impact in PC and have Zhongli for faster farming. Some people might clear the whole map faster or slower depending on loading screen, connection, characters to use, etc.
Second Question
Q: Considering that some spot only have 1 crystal chunk deposit, is it worth to farm the whole map as instructed above?
A: Depend on situation. Do you need crystal chunk that bad, and fast? Do you have free time?
If you have free time and desperately need Crystal chunk like I was. I would recommend to explore the whole map. If the answer is no then just farm the spot with most crystal chunk icon in the map.
Third Question
Q: Some of route in Liyue map is a bit messy. Some route in the map didn't go to the closest ore deposit but instead go to the farther one.
A: It's my personal farming route so it's come back to personal preference. Also, Liyue mountain range is not same as Mondstadt, sometimes it may look closer in the map but on the field you will need to climb the whole mountain, and so on.