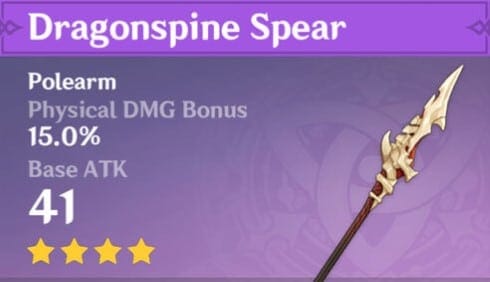 | | |
| --- | --- |
| Type | Polearms |
| Rarity | |
| How to get |  Forging, Quest |
| Base Attack | 41 |
| Substats | Physical DMG Bonus |
| Passive | Frost Burial |
| Description | Hitting an opponent with Normal and Charged Attacks has a 60/70/80/90/100% chance of forming and dropping an Everfrost Icicle above them, dealing 80/95/110/125/140% AoE ATK DMG. Opponents affected by Cryo are dealt 200/240/280/320/360% ATK DMG. Can only occur once every 10s. |
In Game Description
A Spear created from the fang of a dragon. It is oddly warm to the touch.
How to get Dragonspine Spear?
Before getting Dragonspine Spear along with it's blueprint, you will need to do quest in Dragonspine region.
During your adventure in Dragonspine you may stumbleupon strange item which will be identified as Dragon Fang. Follow the quest and in the end you will be rewarded with 1 Dragonspine Spear, and you also can craft it in Forging after that to increase it's refinement.
Here's all materials you need to forge Dragonspine Spear:
Weapon Upgrade Materials
| | | | | |
| --- | --- | --- | --- | --- |
| Level | Mora | Ascension Material | Material 1 | Material 2 |
| Level 20 | 5.000 | x3 | x3 | x2 |
| Level 40 | 15.000 | x3 | x12 | x8 |
| Level 50 | 20.000 | x6 | x6 | x6 |
| Level 60 | 30.000 | x3 | x12 | x9 |
| Level 70 | 35.000 | x6 | x9 | x6 |
| Level 80 | 45.000 | x4 | x18 | x12 |
Special Ability Based on Refinement
| | |
| --- | --- |
| Refinement Rank | Description |
| Refinement 1 | Hitting an opponent with Normal and Charged Attacks has a 60% chance of forming and dropping an Everfrost Icicle above them, dealing 80% AoE ATK DMG. Opponents affected by Cryo are dealt 200% ATK DMG. Can only occur once every 10s. |
| Refinement 2 | Hitting an opponent with Normal and Charged Attacks has a 70% chance of forming and dropping an Everfrost Icicle above them, dealing 95% AoE ATK DMG. Opponents affected by Cryo are dealt 240% ATK DMG. Can only occur once every 10s. |
| Refinement 3 | Hitting an opponent with Normal and Charged Attacks has a80% chance of forming and dropping an Everfrost Icicle above them, dealing 110% AoE ATK DMG. Opponents affected by Cryo are dealt 280% ATK DMG. Can only occur once every 10s. |
| Refinement 4 | Hitting an opponent with Normal and Charged Attacks has a 90% chance of forming and dropping an Everfrost Icicle above them, dealing 125% AoE ATK DMG. Opponents affected by Cryo are dealt 320% ATK DMG. Can only occur once every 10s. |
| Refinement 5 | Hitting an opponent with Normal and Charged Attacks has a 100% chance of forming and dropping an Everfrost Icicle above them, dealing 140% AoE ATK DMG. Opponents affected by Cryo are dealt 360% ATK DMG. Can only occur once every 10s. |