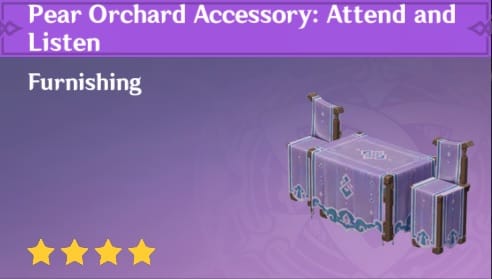 Description
A table-and-chair structure used in stage sets. The combination of solid Fragrant Cedar Wood and sturdy purple fabric can be used as a proxy and metaphor for a variety of things and helps with some theatrical expressions.

As it is a piece of specifically-made stage equipment, the height of this structure is rather exaggerated.

When Yun Jin was young, she didn't quite understand what these were used for. She thought that she found it difficult to climb up these tables and chairs steadily because she was not good enough, and thus decided to practice some footwork, inadvertently improving her basic skills.
How to get Pear Orchard Accessory: Attend and Listen?
Blueprint of Pear Orchard Accessory: Attend and Listen can be obtained from Realm Depot for 240 realm currency. After obtaining the blueprint, you can craft this furnishing using the following materials: