Beidou

Birthday
February 14th
Affiliation
Crux Fleet
Vision
Electro
Constellation
Victor Mare
Weapon
Claymore
Who is Beidou?
Captain of the Crux and its crew. She's quite an unbound and forthright woman.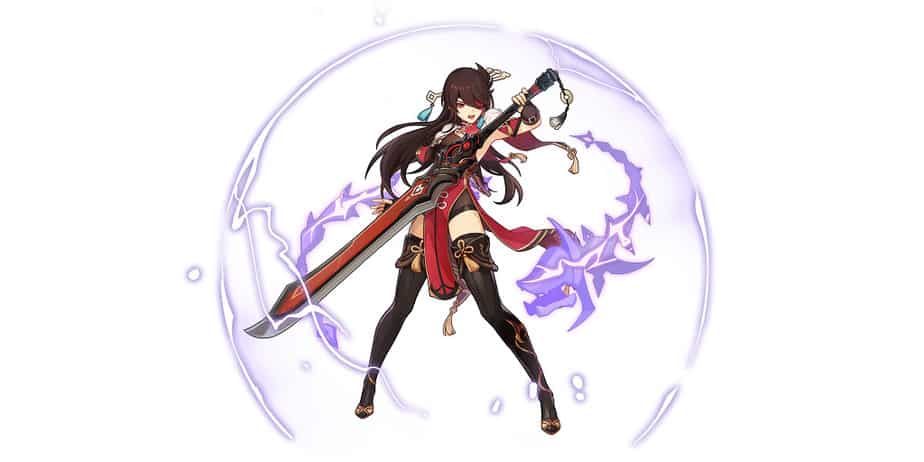 Beidou Stats and Ascension
Stats progression is the number of stats player gets when they leveling up characters. Among all stats, every character have one stats that different with other characters. In Beidou case it's Electro DMG Bonus%.
Stats Progression
Phase
Level
Base HP
Base ATK
Base DEF
Electro DMG Bonus%
0
1
1,094
19
54
–
20
2,811
48
140
–
1
20+
3,628
63
180
–
40
5,435
94
270
–
2
40+
6,015
104
299
6.0%
50
6,919
119
344
6.0%
3
50+
7,694
133
382
12.0%
60
8,597
148
427
12.0%
4
60+
9,178
158
456
12.0%
70
10,081
174
501
12.0%
5
70+
10,662
184
530
18.0%
80
11,565
200
575
18.0%
6/MAX
80+
12,146
210
603
24.0%
90
13,05
225
648
24.0%
Character Ascension
Level
Mora
Material

20 to 20+

20000
x1
–

x3

x3

40 to 40+

40000
x3
x2
x10
x15
50 to 50+
60000
x6
x4
x20
x12
60 to 60+

80000

x3
x8
x30
x18
70 to 70+
100000
x6
x12
x45
x12
80 to 80+
120000
x6
x20
x60
x24
Beidou Skill and Talent
For skill and talents, we are covering combat talents, passive talents, constellation, and all necessary materials to increase Beidou combat talents.
Combat Talents
Talent
Description

Oceanborne (Normal Attack)

Normal Attack: Perform up to 5 successive strikes.
Charged Attack: Drains Stamina over time to perform continuous slashes. At end of the sequence, perform a more powerful slash.
Plunging Attack: Plunges from mid-air to strike the ground, damaging opponents along the path and dealing AoE DMG upon impact.

Tidecaller (Elemental Skill)

Nothing to worry about. Should anyone raise a hand against her or her men, she will avenge it ten-fold with sword and thunder.


Press: Accumulating the power of lightning, Beidou swings her blade forward fiercely, dealing Electro DMG.

Hold: Lifts her weapon up as a shield. Max DMG absorbed scales off Beidou's Max HP.
Attacks using the energy stored within the greatsword upon release or once this ability's duration expires, dealing Electro DMG. DMG dealt scales with the number of times beidou is attacked in the skill's duration. The greatest DMG Bonus will be attained once this effect is triggered twice.
The shield possesses the following properties:

Has 250% Electro DMG Absorption Efficiency.
Applies the Electro element to Beidou upon activation.

Generate 2 elemental particles when it hit at least 1 target, or 4 when hit with energy stored.

Stormbreaker (Elemental Burst)

Recalling her slaying of the great beast Haishan, Beidou calls upon that monstrous strength and the lightning to create a Thunderbeast's Targe around herself, dealing Electro DMG to nearby opponents.


Thunderbeast's Targe:

When Normal and Charged Attacks hit, they create a lightning discharge that can jump between opponents, dealing Electro DMG.
Increases the character's resistance to interruption, and decreases DMG taken.
Triggers a maximum of 1 lightning discharge per second.
Passive Talent
Talent
Description

Retribution

Counterattacking with Tidecaller at the precise moment when the character is hit grants the maximum DMG Bonus.

Lightning Storm

Gain the following effects for 10s after unleashing Tidecaller with its maximum DMG Bonus:

DMG dealt by Normal and Charged Attacks is increased by 15%. ATK SPD of Normal and Charged Attacks is increased by 15%.
Greatly reduced delay before unleashing Charged Attacks.

Conqueror Of Tides

Decreases swimming Stamina consumption of your characters in the party by 20%.

Not stackable with Passive Talents that provide the exact same effects.
All Talents Upgrade/ Ascension Material
Level
Mora
Material
2
12500

x3

x6
–
–
3
17500

x2

x3
–
–
4
25000

x4

x4
–
–
5
30000

x6

x6
–
–
6
37500

x9

x9
–
–
7
120000

x4

x4
x1
–
8
260000

x6

x6
x1
–
9
450000

x12

x9
x2
10
700000

x16

x12
x2
x1
Constellation
| | | |
| --- | --- | --- |
| Level | Constellation | Description |
| 1 | Sea Beast's Scourge | When Stormbreaker is used: Creates a shield that absorbs up to 16% of Beidou's Max HP for 15s. This shield absorbs Electro DMG 250% more effectively. |
| 2 | Upon The Turbulent Sea, The Thunder Arises | Stormbreaker's arc lightning can jump to 2 additional targets. |
| 3 | Summoner Of Storm | Increases the level of Tidecaller by 3. Maximum upgrade level is 15. |
| 4 | Stunning Revenge | Within 10s of taking DMG, Beidou's Normal Attacks gain 20% additional Electro DMG. |
| 5 | Crimson Tidewalker | Increases the level of Stormbreaker by 3. Maximum upgrade level is 15. |
| 6 | Constellation Bane Of The Evil | During the duration of Stormbreaker, the Electro RES of surrounding opponents is decreased by 15%. |
Beidou Build, Weapon, and Artifacts
Here's recommended build for Beidou, with some details including recommended weapon and artifacts along with the effects.
Recommeded Weapon for Both Build
Weapon
Wolf's Gravestone
Increases ATK by 20/25/30/35/40%. On hit, attacks against opponents with less than 30% HP increase all party members' ATK by 40/50/60/70/80% for 12s. Can only occur once every 30s.
Song of Broken Pines
A part of the "Millennial Movement" that wanders amidst the winds. Increases ATK by 16/20/24/28/32%, and when Normal or Charged Attacks hit opponents, the character gains a Sigil of Whispers. This effect can be triggered once every 0.3s.

When you possess 4 Sigils of Whispers, all of them will be consumed and all nearby party members will obtain the "Millennial Movement: Banner-Hymn" effect for 12s.

"Millennial Movement: Banner-Hymn" increases Normal ATK SPD by 12/15/18/21/24% and increases ATK by 20/25/30/35/40%. Once this effect is triggered, you will not gain Sigils of Whispers for 20s. Of the many effects of the "Millennial Movement," buffs of the same type will not stack.

Serpent Spine
Every 4s a character is on the field, they will deal 6/7/8/9/10% more DMG and take 3/2.7/2.4/2.1/1.8% more DMG. This effect has a maximum of 5 stacks and will not be reset if the character leaves the field, but will be reduced by 1 stack when the character takes DMG.
Prototype Archaic
On hit, Normal or Charged Attacks have a 50% chance to deal an additional 240/300/360/420/480% ATK DMG to opponents within a small AoE. Can only occur once every 15s.
Rainslasher
Increases DMG against opponents affected by Hydro or Electro by 20/25/30/35/40%.
Main DPS
Artifacts

2 Set Gladiator's Finale + 2 Set Thundering Fury

ATK +18%.
Electro DMG Bonus +15%

4 Set Gladiator's Finale

ATK +18%.
If the wielder of this artifact set uses a Sword, Claymore or Polearm, increases their Normal Attack DMG by 35%.

2 Set Gladiator's Finale + 2 Set Bloodstained Chivalry

ATK +18%.
Physical DMG +25%.

4 Set Pale Flame

Physical DMG is increased by 25%.
When Elemental Skill hits an opponent, ATK is increased by 6% for 7s. This effect stacks up to 3 times and can be triggered once every 0.3s. Once 3 stacks are reached, the 2-set effect is increased by 100%.

2 Pale Flame + 2 Blooodstained Chivalry

Physical DMG is increased by 25%.
Physical DMG +25%.

Main Stats Priority

HP – ATK – ATK% – PHYSICAL DMG/ATK% – CRIT DMG/CRIT RATE

Substats Priority

CRIT RATE > CRIT DMG >ATK% > ENERGY RECHARGE > EM
Sub DPS
Artifacts

2 Set Gladiator's Finale + 2 Set Thundering Fury

ATK +18%.
Electro DMG Bonus +15%

4 Set Thundering Fury

Electro DMG Bonus +15%
Increases damage caused by Overloaded, Electro-Charged and Superconduct by 40%. Triggering such effects decreases Elemental Skill CD by 1s. Can only occur once every 0.8s.

2 Set Wanderer's Troupe + 2 Set Thundering Fury

Increases Elemental Mastery by 80.
Electro DMG Bonus +15%

Main Stats Priority

HP – ATK – ATK% – ELECTRO DMG/ATK% – CRIT RATE/CRIT DMG

Substats Priority

CRIT RATE > CRIT DMG > ATK% > ELEMENTAL MASTERY > ENERGY RECHARGE