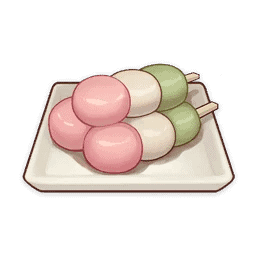 In Game Description
A soft, glutinous snack. Glutinous rice has been grown into powder and rolled into a ball before being steamed. The Sakura Bloom and Snapdragon colors lend an extra liveliness to these dango.
Effect
Depending on the quality (Suspicious/Normal/Delicious), this dish restores 30/32/34% of Max HP to the selected character and regenerates 600/1.250/1.900 HP every 5s for 30s.
Just like any other food, consuming this dish will only effect your own character or party. This dish won't have any effect for other players in Co-Op mode.
Tricolor Dango Recipe Location?
The recipe of Tricolor Dango can be purchased for 5.000 mora from Kiminimi Anna, NPC from Inazuma city.
Recipe
Here's all ingredients you need to cook this dish: