Sangonomiya Kokomi is hydro catalyst user and as for her role in party, she is healer with potential as sub dps and elemental reaction support.
Overview
Kokomi Elemental Skill: Kurage's Oath will summon Bake-Kurage or jellyfish that will heal active character while dealing Hydro DMG to the enemy. This healing is based on Kokomi's Max HP.
Bake-Kurage ripple will occur every 2s within 12s skill duration, that 6 ticks healing + hydro application. So the practical use would be use her elemental skill, switch to your dps character for elemental reaction or switch to character that need healing.
Kokomi Elemental Burst, Nereid's Ascension will increase her normal attack, charged attack, and her jellyfish DMG based on her Max HP. Within burst duration, When her normal and charged attack hit the opponents. Kokomi will restore HP for all party member HP, and the amount restored is based on her Max HP.
The DMG of her normal attack, charged attack, and bake-kurage will further increased based on 15% of her Healing Bonus by passive: Song of Pearls.
If you are using Kokomi as your DPS, 10s burst duration is her DPS window.
If you are using her as healer or elemental reaction support, it's recommended not use her elemental burst unless you need emergency healing because Bake-Kurage from her elemental skill bring enough healing with additional hydro application and 12s duration.
And don't forget about this passive that many people talk about: Flawless Strategy or -100% CRIT Rate. Because of this passive, your choice for Circlet will be limited between HP% or Healing Bonus%.
Weapon
Because her ATK increase and healing based on Max HP, your priority would be weapon with HP% substats.
Your first choice is Kokomi signature weapon, Everlasting Moonglow. This weapon have effect called Byakuya Kougetsu with effect as described below"
Healing Bonus increased by 10/12.5/15/17.5/20%, Normal Attack DMG is increased by 1/1.5/2/2.5/3% of Max HP of the character equipping this weapon. For 12s after using an Elemental Burst, Normal Attacks that hit opponents will restore 0.6 Energy. Energy can be restored this way once every 0.1s.
Other weapons with HP substats is Prototype Amber and TTDS (Thrilling Tales of Dragon Slayer).
Prototype Amber is craftable catalyst and will give you good healing almost comparable to Everlasting Moonglow, while TTDS is support-type catalyst which will increase 48% ATK for 10s at refinement 5 after switching from Kokomi.
Artifacts
DPS Build
If you are forcing using Sangonomiya Kokomi as DPS, your obvious choice will be 4 Heart of Depth. 2 set will give 15% Hydro DMG increase while it's 4 set increases Normal Attack and Charged Attack DMG by 30% for 15s.
As for rotation, use elemental skill to trigger 4 set effect, then use elemental burst for further ATK increase, then spam normal and charged attack within burst duration.
Support Build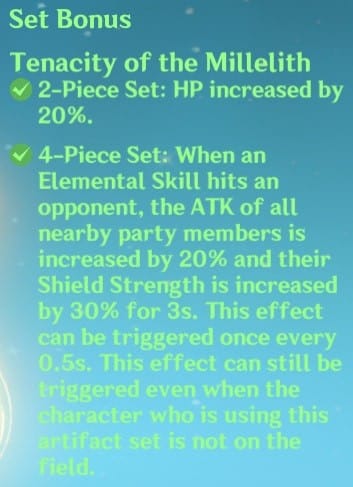 For healer and support, you can use 4 Tenacity of the Millelith. 2 set will give her 20% more HP which means more ATK and healing increase. 4 set will give ATK increase for 3s for nearby party member after Kokomi using her elemental skill, Kurage's Oath.
Healer Build
Newly released Ocean Hued Clam is the best for Kokomi healer build. 2 set will give 15% healing bonus just like Maiden Beloved, while 4 set will summon bubble whenever you heal. This bubble will explode and deal 90% of accumulated healing.
Other alternative for healer build is 2 Maiden Beloved/2 Ocean Hued Clam + 2 Millelith. 2 Maiden/2 Ocean Hued Clam for 15% healing bonus and 2 Millelith for 20% more HP.
Artifact Stats
Goblet: Hydro DMG Bonus% is recommended if you are running Kokomi as DPS, and HP% for healer build.
| Sand | Goblet | Circlet |
| --- | --- | --- |
| HP% | Hydro DMG Bonus%/HP% | HP%/Healing Bonus |
Substats
HP%/HP > ATK%/ATK > Elemental Mastery > Energy Recharge%
Why Not 4 Maiden Beloved?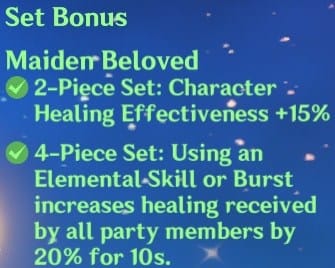 With her elemental skill alone, she already heals a lot and in case emergency, you have her burst to heals more. 4 set Maiden Beloved set bonus won't be necessary, and it's better using 2 other set with better set bonus like HP% which will increase both her ATK and healing.