Barbara is first dedicated healer in Genshin Impact, and all players can get her for free after finishing first Archon quest (Mondstadt). Normally people will build Barbara as healer, but you can also build her as DPS for fun.
Overview
Barbara Elemental Skill: Let The Show Begin will summon musical notes, circling and healing active character HP. This skill will apply wet status to active character, make sure to remember this when you are fighting Cryo enemies.
Normally, Let The Show Begin will heals 3 times within 15s duration. But after unlocking Encore, you will get 1 more healing tick after getting 5s extension.
Glorious Season will reduce stamina consumption within skill duration by 12%. It works for anything: charged attack, sprinting, etc.
Barbara elemental burst: Shining Miracle heals nearby allied characters and your characters in the party for a large amount of HP that scales with Barbara's Max HP.
Important Constellations?
First constellation will help her fill elemental burst gauge,generating 1 energy every 10s. Not so much but still useful.
Second constellation will decrease her elemental skill cooldown by 15% and give 15% Hydro DMG Bonus for active character within skill duration. It's useful if you have DPS character like Childe, Mona, or when you wanna try building Barbara as DPS.
Sixth constellation will give Barbara ability to auto-revive any dead character in the party with 15 minutes cooldown. Revived character will have 100% HP.
Support Healer Build
Weapon
There's 2 choice when it comes to regular healer build for Barbara. First is Thrilling Tales of Dragon Slayer from gacha, second is Prototype Amber from forging. Both have HP% substats which is good since Barbara healing scales off her HP.
Prototype Amber will give you more healing. Using an Elemental Burst regenerates 4/4.5/5/5.5/6 Energy every 2s for 6s. All party members will regenerate 4/4.5/5/5.5/6% HP every 2s for this duration.
Thrilling Tales of Dragon Slayers is 3 star gacha weapon, easy to obtain and refine. This weapon will give your other character (after switching from Barbara) 48% ATK increase at refinement 5 for 10s.
Go with Prototype Amber if you want more healing, and go for Thrilling Tales of Dragon Slayers if you want Barbara to act as buff support for your party.
Artifacts
4 Maiden Beloved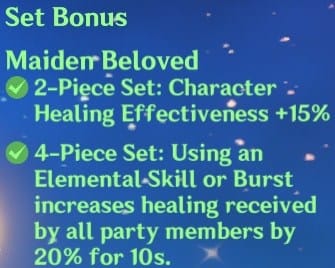 4 set Maiden Beloved specifically created for dedicated healer like Barbara. 2 set will boost character healing effectiveness +15%, and 4 set will increases healing received by all party members by 20% for 10s when elemental skill/burst is used.
If you want her to be a bit more tanky, 2 Maiden Beloved + 2 Tenacity of Millelith also a good choice. You keep 15% healing effectiveness from 2 set Maiden and get 20% more HP from Tenacity of Millelith.
Artifact Stats
Barbara healing scales off her HP so stack HP as much as you can.
| Sand | Goblet | Circlet |
| --- | --- | --- |
| HP% | HP% | Healing Bonus% |
Substats
HP%/HP > Energy Recharge% > Elemental Mastery
DPS Build
Yes, you can also build barbara as DPS. No one will stop you if you want her to slap the enemy even harder.
Take a note, it's even better if you have C2 Barbara. Her C2 will decrease her elemental skill cooldown by 15% (from 32s to 27s) and give 15% Hydro DMG Bonus for active character within skill duration. Also, as DPS your main source of damage would be Charged Attack.
Weapon
For weapon, use catalyst with ATK/CRIT DMG/CRIT Rate substats. As 5 star, Lost Prayer and Skyward Atlas definitely would be the best.
The Widsith with it's CRIT DMG substats and random effect also a good choice, following by Dodoco Tales which have effect to boost charged attack.
Artifacts
4 Shimenawa
By choosing Shimenawa Reminiscence, Barbara will get 50% DMG increase for Charged Attack by sacrificing 15 energy everytime Barbara using her elemental skill. So, more damage but less healing/not using elemental burst as often.
Mind that 4 Shimenawa effect will last only for 10s while Barbara elemental skill have 27s CD so there's huge gap before next buff.
4 Wanderers Troupe
Artifacts that only can be obtained from weekly and elite bosses so it will take sometime to get "perfect" set. 4 set effect will give Barbara consistent +35% Charged Attack DMG.
4 Heart of Depth
2 set will give 15% Hydro DMG increase while it's 4 set increases Normal Attack and Charged Attack DMG by 30% for 15s. Less DMG boost than Shimenawa but longer buff (5s) + 15% Hydro DMG increase.
You can also use this 2 set of this artifact with other 2 set like Shimenawa or Gladiator for juicy 18% ATK increase.
Artifact Stats
| Sand | Goblet | Circlet |
| --- | --- | --- |
| ATK% | Hydro DMG Bonus% | CRIT Rate%/CRIT DMG% |
Substats
CRIT Rate% > CRIT DMG% > ATK%/ATK > Elemental Mastery > Energy Recharge