Title

Savior From Another World

Birthday

April 4th

Affiliation
Vision
Cryo
Constellation
Nora Fortis
Weapon
Bow
Who is Aloy?
Formerly an outcast, now a hunter of unparalleled keenness. Ready to do the right thing with her bow at any given time.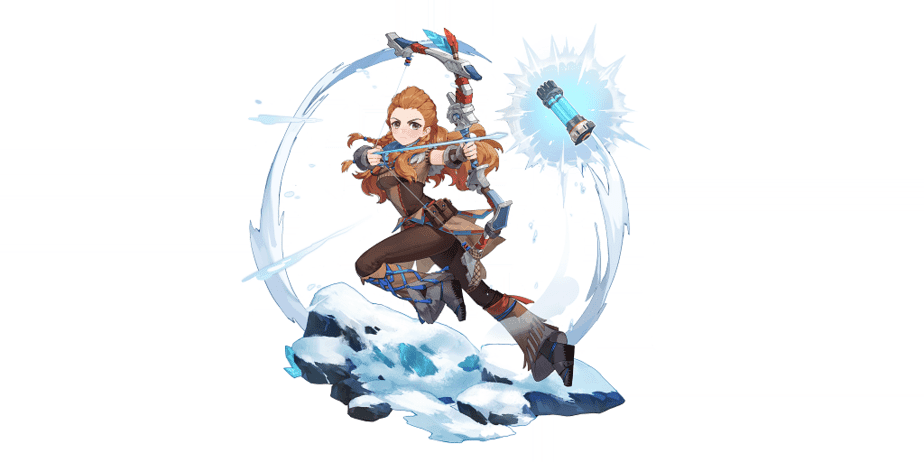 Aloy Character Ascension
Level
Mora
Material
20 to 20+
20000
x1
–
x3
x3
40 to 40+
40000
x3
x2
x10
x15
50 to 50+
60000
x6
x4
x20
x12
60 to 60+
80000
x3
x8
x30
x18
70 to 70+
100000
x6
x12
x45
x12
80 to 80+
120000
x6
x20
x60
x24
Aloy Talents
For skill and talents, we are covering combat talents, passive talents, constellation, and all necessary materials to increase Aloy combat talents.
Combat Talents
Talent
Description
Rapid Fire (Normal Attack)

Normal Attack: Perform up to 4 consecutive shots with a bow.
Charged Attack: Perform a more precise Aimed SHot with increased DMG.
While aiming, biting frost will accumulate on the arrowhead. A fully charged frost arrow will deal Cryo DMG.
Plunging Attack: Fires off a shower of arrows in mid-air before falling and striking the ground, dealing AoE DMG upon impact.

Frozen Wilds (Elemental Skill)
Aloy throws a Freeze Bomb in the targeted direction that explodes on impact, dealing Cryo DMG. After it explodes, the Freeze Bomb will split up into many Chillwater Bomblets that explode on contact with opponents or after a short delay, dealing Cryo DMG.

When a Freeze Bomb or Chillwater Bomblets hits an opponent, the opponent's ATK is reduced and Aloy receive 1 Coil stack.

Coils

Each stack increases Aloy's Normal Attack DMG.
When Aloy has 4 Coil stacks, she gains Rushing Ice, which converts her Normal Attack DMG to Cryo DMG.

While under the effect of Rushing Ice, Aloy cannot receive new Coil stacks
Coil effect will be cleared 30s after Aloy leaves the field.

You think that's cold? guess you've never been to The Cut.

Prophecies of Dawn (Elemental Burst)
Aloy throws a Power Chill filled with Cryo in the targeted direction, then detonates it with an arrow, dealing AoE Cryo DMG.

Whether "Zero Dawn" referred to hope or extinction no longer matters. Aloy has already saved her world, and this one has it's own heroes to worry about it's fate.
Passive Talents
| | |
| --- | --- |
| Talent | Description |
| Easy Does It | When Aloy is in the party, party members who get close to small animals who can produce fowl, raw meat, or chilled meat, they will not easily startle them. |
| Combat Override | When Aloy receives the Coil effect of Frozen Wilds, her ATK increased by 16%, while other party members ATK is increased by 8%. This effect lasts 10s. |
| Strong Strike | When Aloy is in the Rushing Ice state conferred by Frozen Wilds, her Cryo DMG Bonus increases by 3.5% every 1s. A maximum Cryo DMG Bonus increase of 35% can be gained this way. |
Talent Level Up Materials
Talent Level Up Materials
Level
Mora
Material
2
12500
x3
x6
–
–
3
17500
x2
x3
–
–
4
25000
x4
x4
–
–
5
30000
x6
x6
–
–
6
37500
x9
x9
–
–
7
120000
x4
x4
x1
–
8
260000
x6
x6
x1
–
9
450000
x12
x9
x2
–
10
700000
x16
x12
x2
x1
How to Obtain "Savior From Another World" Aloy (Cryo)
All Travelers who have reached Adventure Rank 20 or above will be able to obtain the event-exclusive 5-star character "Savior From Another World" Aloy (Cryo) directly through in-game mail.
This event will be divided into two phases.
Phase I
After the Version 2.1 Update – Start of Version 2.2 Update Maintenance (October 13, 2021 05:59 UTC+8)
During the event, all Travelers who log into Genshin Impact on the PlayStation®4 or PlayStation®5 system will be able to obtain Aloy directly through in-game mail.
Phase II
After the Version 2.2 Update – Start of Version 2.3 Update Maintenance (November 24, 2021, 05:59 UTC+8)
During the event, Travelers who log into Genshin Impact on any available platform, and who have yet to obtain the character during Phase I will be able to obtain Aloy directly through in-game mail. via hoyolab